photo_album_help:upload_photos
How Too Upload Photo's to your Album

Uploading Photo's to your Album is a very easy process. Use the Options drop down menu and select Add Media to upload photo's from your computer to the web site. You will have several options on the upload screen to use for uploading Photo's. We are going to use the Flash option in this discussion. When you first go into the Flash screen you will see a file size limit shown in the lower left side of the screen. This number is critical to the success of the upload. If it is a long string of numbers you will need to change to another album to make this number be 20M. Then change back to the album you intend the new photo's to go into. If you do not have a sub album to change to, then you should use the Dummy Album I have setup for this purpose. Make sure you change back to the album you want the photo's to go into. Here is an example of a bad file size limit.
Next step as above would be to change the album, here is an example of changing to the Dummy Album.
Now change back to your original Album.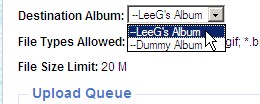 You should now see this the Flash upload screen.
If this is the screen you see when you first go into the Flash upload you are ready to upload photo's. On this screen you will see a Browse button, press this button to select photo's on your computer to upload into your album. You can select more then one and they all will upload automatically. Make sure you click on the Save and Exit button to complete the process. Any photo's uploaded to the site will need to be approved by a Media Gallery Admin before you will see them in your album. Be patient and they will be approved as soon as possible.
Some guide lines for the pictures you upload are this, the program will re-size the photo's as they are uploaded. So the picture you upload should be around 1024 wide and 768 high in picels. If your photo is smaller then 800×600, then that is what you have to work with. The reason I suggest 1024×768 is that file size is close to what the program re-sizes too. If you send a very large file say 2048×1538 the space limit is checked with this file size and can put you over your limit to soon. Keep that in mind when uploading.
photo_album_help/upload_photos.txt · Last modified: 2012/04/11 10:42 by LeeGoldsmith